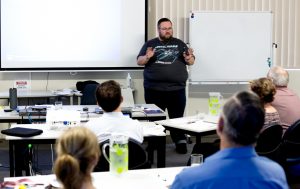 In Queensland I teamed up with Molk aka Steve Molkentin, the Synod's Digital Youth Discipleship Officer for a day training session on Faith Formation and Discipleship in a Digital Age. Here's Molk doing his thing.
I based much of my part on the work of John Roberto from LifelongFaith.com. John is a US Catholic whose work has contributed a lot to the UCA for about 30 years. Last year we invited him to Australia for a series of events on 21st C Faith Formation.
The focus of the day was on
How digital technologies are changing our world
How people connect, engage and elarn
Whose faith are we forming
A Faith Formation Ecosystem
Tools and Approaches for 24/7 Faith formation
VIDEO – Portrait of Lotte
Reflection on
– pace of change in our lives
– focus of the day is on formation rather than technology
VIDEO – Totota Corolla Advert
This is not about being cooler than the church down the road.
VIDEO – BT Stadium
Communication – Community – Communion: Good community and authentic community go together. Communication isn't a thing in and of itself. Technologies should serve human well being and deeper community.
HISTORY OF COMMUNICATION & MULTIMEDIA
I did a three minute history of media & technology from the Difference Engine in 1822 to the first PCs in the mid-1970s. Photos, videos. It's fun. There are a bunch of videos online that are different but helpful. Go to Youtube and search on "History of Communication".
ACTIVITY
Invite people to talk in groups of three about technology changes they've seen in their lifetime.
Invite them to discuss how they feel about these changes.
(In a longer session we could have named some of the positives and negatives that we see in technological change, and discussed the question of whether or not technologies are neutral.)
WHEN OLD TECHNOLOGIES WERE NEW
I described the introduction of the telephone, radio and television and their effects on households, drawing on Carolyn Marvin's fascinating book.
CHANGES IN RECENT DECADES
Molk did a bunch of excellent stuff around the grown of the internet, mobile devices and social media.
CHANGES IN SOCIETY & FAITH FORMATION
1. Faith Formation Ecosystem – John Roberto from Craig Mitchell on Vimeo.
The next bunch of stuff drew directly from John Roberto's materials – you can access them here and here. I did summarise some stuff. I highly recommend his book "Reimagining Faith Formation for the 21st Century".
Society is more diverse
cultural and religious
Life span and generational
Family and extended family
Institutional engagement
Lifestyle
Learning styles and resources
There are many implications of the above. Most of our assumptions about teaching approaches, curriculum and learning programs. We have shifted from group-centred life to 24/7 networked life.
FOUR KINDS OF ARENAS FOR FAITH FORMATION
A diagram developed by Roberto with a group of leading US educators provides a very rich basis for discussion about whose faith are we forming and how. It is from his book "Faith Formation 2020" which I highly recommend. Go here for free downloads from the book including the diagram.
VIDEO – JOHN ROBERTO
2. Formation in a Digital World – John Roberto from Craig Mitchell on Vimeo.
BUILDING A NEW FAITH-FORMING ECOSYSTEM (Roberto)
Intergenerational Faith Community
Age Group / Generational Faith Formation
Family Faith Formation
Missional Faith Formation
Online & Digitally-enabled Faith Formation
SHIFTS IN EDUCATION (Roberto plus Greg Whitby)
We discussed the major changes in education from teacher-censed to learner-centred, participatory learning, flipped classroom, 24/7 learning, mobile access.
CONNECTED FAITH FORMATION
The latter part of the morning session, again drawing on Roberto, involved exploring how the ministries of the church might take place not only when we gather as a congregation but also (a) in daily and home life and (b) online.
Example #1 – Worship
Example #2 – Lent
Both examples are in Roberto's handouts.
People were invited to choose an area of their church's ministry and begin talking about how to extend/expand it.
DOWNLOAD Blended-Faith-Formation-Planning-Sheet PDF
DOWNLOAD Roberto-Summary (first 2 pages thanks to GROW Ministries).
CURATION
We finished the morning session introducing the notion of curating rather than creating online content. Learn about curation here.
Roberto has curated many faith formation resources here.
In the afternoon session we started to look at tools and approaches.
I'm curating a page of faith formation mobile apps.
Here's a good example of a church curating resources to connect with "fringe" families who attend Messy Church – Immanuel Lutheran Church, Adelaide. The site is authored in Weebly.
Here's a site I put together one afternoon and evening to curate resources for families on "Food and Faith" related to a church program we were running at my local church.
I also gave a plug for my FED News which is an occasional curation of helpful resources.
Yeah, and Molk did a heap of stuff.